Private Tours
Island Hopping & Snorkeling Tours
Oslob & Tumalog & Sumilon Activity Tour
US$ 103.60
Available from Dec 13, 2023
4.5

See reviews  >
Cebu >
Product
24 Hours Confirmation
2 people
Hotel pick up
Mobile voucher
Use only on the scheduled date
Cancellation available
Duration of 15 hours
Korean,English
Review
20
Excellent!
4.5
2018.06.26
No better way to swim along with the whale sharks. We had the nicest tour guide. And we loved the food there too. Thumbs up!
Highlights
Enjoy the thrilling activities in Oslob, Tumalog, and Sumilon Island
Meet the world's biggest whale sharks in Cebu
Visit the Bluewater Resort in Sumilon Island
Buffet lunch is included
Explore the islands with snorkeling, kayaking, and fishing!
Program
Spend a leisurely day immersed in nature with our Oslob & Tumalog & Sumilon Activity Tour. Oslob Whale Shark Watching and Tumalog Falls Tour grant you the opportunity to witness the scenic beauty. Discover the hidden natural wonders with the two must-do activities in Cebu. Get the most out of your Cebu trip with the two most popular activities combined into one tour!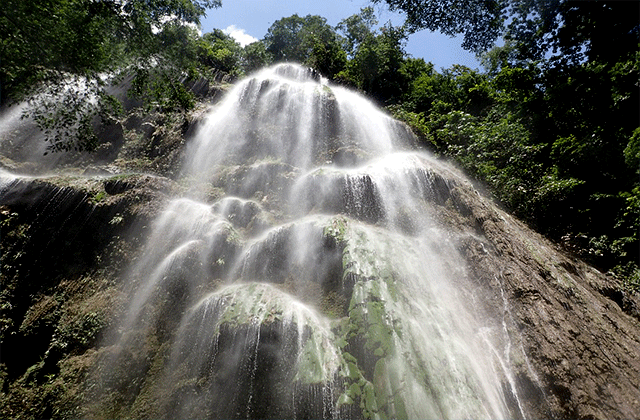 Discover other spectacular natural wonders other than the already popular Mactan. Visit Sumilon Island to discover the world's biggest fish, whale shark, slowly gliding along you. Complete your day by marveling at the majestic Tumalog Falls. If you are looking for a leisurely day on a tranquil island, the Oslob & Tumalog & Sumilon Activity Tour is a perfect choice.
Discover the natural wonders of Cebu with our Oslob & Tumalog & Sumilon Activity Tour! Reward yourself with a relaxing day.

Itinerary
03:30 am - 04:00 am - Pick-up at a hotel/resort in Cebu or Mactan area
07:00 am - Arrive at Oslob. Breakfast & snorkeling instructions
08:00 am - Put on snorkeling equipment. Whale Shark Tour
9:00 am - Tumalog Falls
10:00 am - Depart for Sumilon Island/ use Bluewater Resort facilities
12:00 pm - Lunch at the Sumilon Island Bluewater Resort (buffet lunch)
12:30 pm - Use Bluewater Resort facilities / Kayaking
15:00 pm - Back to the main Island
16:00 pm - Arrive back in Cebu
19:00 pm - Arrive at your hotel
Information
What's Included
Private vehicle (Mactan/Cebu pick-up)
Oslob whale shark watching (snorkeling environmental fee is not included)
Tumalog entrance fee & bike rental
Sumilon Island Day tour
Snorkeling equipment rentals
Admission to Sumilon & Banka
Luggage storage (in the car)
What's Not Included
Snorkeling environmental tax: 500 PHP / per person
How To Use
Once confirmed, the voucher will be sent to your email or mobile app.
Please present the mobile or printed voucher to your guide at the pick-up point.
This tour is valid only on the scheduled visit date.
Meeting Point :
Meet at your hotel lobby. Pick-up service available only in Mactan/ Cebu City areas.
Only applicable for those who booked hotels in the designated areas of Cebu City or Mactan.
Participants who are willing to join the tour from the airport will be picked up from Terminal 2 Arrivals, Globe telecom booth. In this case, please provide airport/ flight number instead of hotel name.
Meeting Time :
03:30 am - 04:00 am
Please arrive at least 15 minutes prior to the scheduled meeting time.
What to Remember
Non-reservation Dates
2019: June 26th, July 24th, August 21st, September 25th, October 23rd, November 27th, December 25th
Tour does not operate due to Tumalog Waterfall's clean-up.
Hotel Pick-up/Drop-off Service
Participants who are willing to join from the airport are welcome on this tour.
International Flight Meeting Point: Terminal 2 Arrivals, Globe telecom booth
Domestic Flight Meeting Point: Terminal 1 Arrivals
Private Tour
Please note that this tour is a private tour. If you recruit a group of independent travelers to join this tour, you will be responsible for any problems that occur during the tour. For any reservation inquiry, please contact WAUG 070-4353-5959).
취소/환불 규정은 주말/공휴일 제외 평일 기준 영업시간 (오전 10:00 - 오후 18:00)내에 접수된 건에 한해 적용됩니다.
Cancellation and Refund Regulations
7 -8 days prior to the scheduled visit date: A full refund
3 -6 days prior to the scheduled visit date: A partial refund of 50%
0 - 2 days prior to the scheduled visit date: non-refundable
No refund for package travelers
Sign Up Now and Receive $20 Value Coupons
*App Only
타겟

production
서비스

activity
버전

1.0.27