Join us for an exclusive tour,
Oslob Whale Shark & Tumalog Falls Tour!
Are you ready for the Oslob Whale Share & Tumalog Falls Tour? Feel free to join this fun-filled experience conveniently. Since it is far from Cebu City, it's better to pick an exclusive individual tour than a joint/shared tour. Going by yourself will be much easier than being in a packed number of people.

Go off to Osloab easily and meet a large Oslob Whale Shark. Interact with Whale Shark and enjoy a unique experience. Once you have had a fascinating time with the Oslob Whale Shark, it's time for you to visit the Tumalog Falls tour to enjoy all the sights of dropping-down waterfalls. This will make your day special and create unforgettable memories.

Not just simply a tour; it's a tour well-created for you!
We recommend to go for it!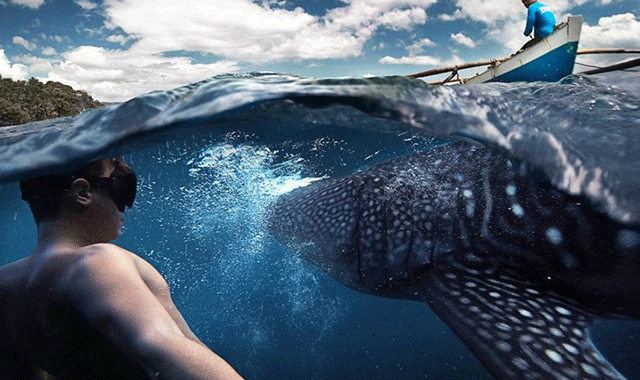 1. A private vehicle provided for the entire itinerary:
Due to the long distance, we start early in the morning.
A must for this individual; transportation is a necessity!

2. Full support from the local guide:
Our local guide will give you close care and support in case of unforeseen safety incidents.
3. Breakfast & snacks provided:
If you depart in the morning, you may feel the emptiness of your tummy. We are all prepared a good amount of breakfast and snacks for you!
4. No Entrance Fee:
Local entrance fees, snorkeling fees, and all additional costs are included. Put all your worries behind paying all these fees; our tour provides all of them!

Explore the tour itinerary!
1. 4:00 AM - Meet at the meeting point:
Please meet at the stay-in hotel lobby for the meeting.

2. 8:00 AM - Arrive at Oslob:
If you went for a 4-hour ride, let's go for breakfast first! Satisfy one's hunger and nourish oneself

3. 8:30 AM - Oslob Whale Shark Snorkeling:
Be on to have fun with Whale Shark for snorkeling; if you are not down for it, go for watching it!
4. 9:30 AM - Tumalong Falls Tour
These impressive waterfalls will grab your attention with emerald-like eyesight.
5. 11:00 AM - Lunch:
Help yourself out for local lunch.
*Lunch is not included, so don't feel pressure to dine in for it.

6. 12:00 PM - Depart to hotel:

7. 3:00 PM - 4:00 PM - Arrive at hotel.

*Due to traffic conditions, there may be late arrivals; we appreciate your understanding.
*Tumalong Falls Tour might not be able to enter unpredictably; we thank you for your understanding.