Meet Tokyo's new landmark,
Skytree!
Completed in 2016, Tokyo Skytree is a new landmark in Tokyo, which emerged 100 years after the Tokyo Tower. It impressively shows a height of 634 meters and stands as the tallest self-supporting broadcasting tower in the world.

Plus, the name "Skytree" was chosen to signify a "giant tree reaching towards the sky," it is pretty well known as being designed by the best and most renowned Japanese sculptor, Kiichi Sumikawa.

Observation decks can reach Tokyo Skytree at 350 and 450 meters. On a nice and clear day, visitors can enjoy panoramic views extending up to approximately 75 kilometers, which can be looked down to Mount Fuji. In the evening, don't miss out on the dazzling night view of Tokyo with a view of the Tokyo Tower, which is why a must-visit destination.

Go up to 450m and walk, Tempo Galleria
Go to Tempo Galleria, 450m at Tokyo Skytree, the most famous spot! Along the glass slope, you may feel like walking in the air! That's why even if it costs more, you must stop by the 450m high Tempo Galleria! We highly recommend visiting!

From walking along the Tempo Galleria, you can reach the summit at Sorakara Point, 451.2 meters, don't miss out on this breathtaking view which is worth stopping by!

Introducing Sorakara Point!
The Sorakara Point is at the summit of Tembo Galleria, the highest point, creating a mesmerizing space, as seen in the photo above. Surround yourself with light and glass, and experience yourself with a unique three-dimensional view, and you will feel like you are floating. It has a geometric round shape, and you see the unique spatial experience and sculptural design inspired by the Earth's round shape. Enjoy this unique and beautiful place to visit.

Stop by Sky Restaurant 634, Musashi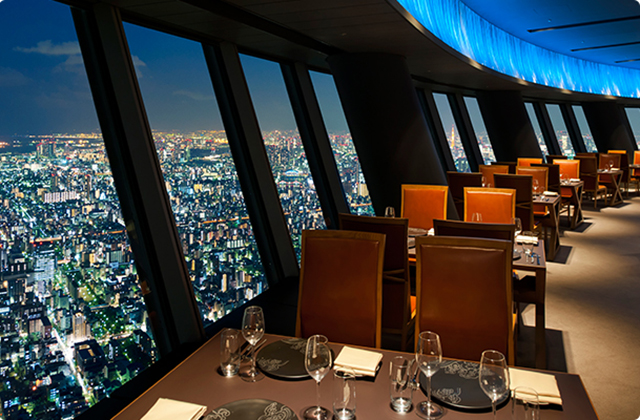 On the top of the 345-meter-high Skytree, don't forget to visit Sky Restaurant 634! Tokyo's highest restaurant offers a breathtaking dining experience with stunning city views. We highly recommend that significant others visit during their Tokyo trip, the best spot for a romantic proposal.

Enjoy Tokyo cuisine with new traditions with a great harmony of Edo chic and French cuisine elegance, and spend a perfect to finish your day here.

Check out the Skytree Cafe!

On the height of the 350-meter observatory, meet Skytree Cafe for a fantastic panoramic view and have a glass of Iced coffee! Enjoy the cafe's menu, like light snacks, original sweets, and various menus!

Don't miss out on Sumida Aquarium!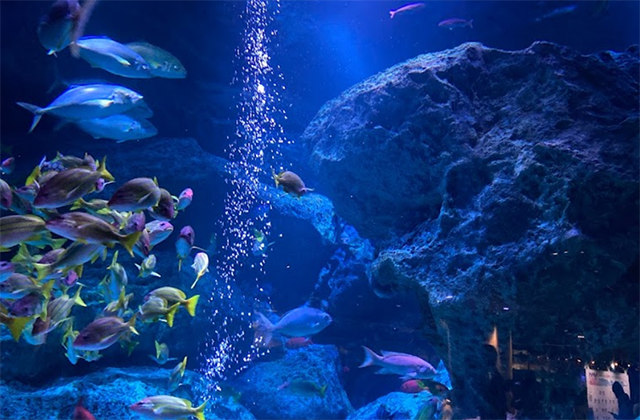 Check out the Sumida Aquarium; there are lots of things to see! Located on the 5th floor of SkyTree, see the blue sea of marine creatures!
Click here for Tokyo Skytree Observatory + Sumida Aquarium (Combo Ticket/ Enjoy package)
Click for only Sumida Aquiurm here!

Have more fun in Skytree!
Enjoy a variety of events at Tokyo Skytree. Check out for Yoga at Skytree, a height of 450 meters, which the Yoga Organization of Japan recognizes as a "Sacred Place of Yoga"!

Plus, check all other events at Skytree here, and go for a trip!

Check out the Skytree shop!
Check out the Skytree shop for souvenirs. In particular, Tokyo Skytree Fromage Sand is the most famous, so don't miss out on getting one!
Enjoy a camembert-flavored white chocolate sandwiched cookie, which will melt in your mouth! It's slightly salty and moderately sweet, contains 15 pieces, and is pretty, so it will be a good gift for anyone!

Reasons to buy from WAUG!
Get discounted and cheap. Tokyo Skytree Observatory Ticket, and get access to Skytree on 350 and 450 meters!
Create unforgettable memories by visiting Tokyo Skytree Observatory with WAUG!