One is not enough,
get Universal Studios Japan 1.5-Day Studio Pass
Have the best theme park experience at Universal Studios Japan! With over 60+ attractions, you are guaranteed to have the best time, whether you're visiting with friends, family, or your significant other. Discover the Mario Area and Mario Kart: Koopa's Challenge, two attractions that were awarded the coveted THEA awards. Don't forget to hop aboard The Flying Dinosaur and Minion Mayhem (Despicable Me), The Wizarding World of Harry Potter™, and more!
**Universal Studios Japan and Nintendo jointly survey the brand's characters and facilities.

Visiting Super Nintendo World™
Specific periods don't require entry to the Super Nintendo World™. However, we encourage you to make an advanced booking on the Universal Studios Japan app for guaranteed admission.

Ticket Season
Universal Studios Japan tickets are categorized into four seasons: A, B, C, and D.

A - Low Season
B - Regular Season
C - Regular High Season
D - High Season
E - Super High Season
The ticket price varies depending on the season. We recommend visiting on a Season A date, which has the cheapest and lowest price.
View the price calendar here.

Check out the types of USJ tickets!
Not sure which Studio Pass (or admission ticket) to get? Check out these options!
1. Universal Studios Japan 1-Day Studio Pass
This is a 1-day admission ticket that provides access to the theme park for a full day!
⚡ Book here.

2. Universal Studios Japan 1.5/2-Day Studio Pass
Choose to get admission to the theme park for 1.5 or 2 days.
⚡ Book a 1.5-day Pass here.
⚡ Book a 2-day Pass here.

3. Universal Studios Japan Express Pass 4
Get fast-track or priority access to 4 of the park's most popular attractions.
Book here.

4. Universal Studios Japan Express Pass 7
Get fast-track or priority access to 7 of the park's most popular attractions.
⚡ Book here.

5. Universal Studios Japan 1-Day Studio Pass + Early Park Entry
Enter the park 15 minutes before it opens!
⚡ Book here.

6. Universal Studios Japan 1-Day Pass + Super Nintendo World™ Area Timed Entry Ticket: Advance Booking
⚡ Book here.

Time-Saving Tips!
Please remember the following key points to make the most out of your time in the park:

1. Reserve timed-boarding tickets at Universal Wonderland
Make sure to reserve your timed access at Universal Wonderland. Simply choose your preferred timeslot and have your ticket issued. Learn more here.
2. Get the official USJ app
View ride schedules, shows, availability, and wait times with just a few taps! Learn more here.

3. Use the Timed Entry e-Tickets
Get Timed Entry eTickets from anywhere inside the park. It even saves the tickets for everyone in your party.
Learn more here.

NO LIMIT! Parade
Enjoy access to this show that's full of surprises! View the super-fresh line-up of Pokemon and Super Mario characters, join the popular singing show that introduces original songs for the first time, and meet baby dinosaurs. Enjoy the frenzied street with a festive atmosphere!

Area & Attraction Guide

There are varieties of themes 'areas' in Universal Studios Japan. Let's dive into the most popular areas below!

1. Mario Kart: Koopa's Challenge
The world of the famous Mario Kart and various thrilling courses come to life right before you! Get excited to allow yourself to throw shells and rush forward with Mario and Princess Peach to go against the opponents. Experience the world's first Mario Kart adventure, brought with cutting-edge technology exclusive to the park. Get your heart pumped and enjoy the excitement; the thrill will never stop.

2. Yoshi's Adventure
Hop on Yoshi's back and go venture for treasure-hunting from chasing after Captain Toad! Follow the map the captain accidentally dropped to find the three hidden eggs in all directions. Look down the Mushroom Kingdom from the top of Mount Beanpole, and meet adorable characters along the way. Fill excitement with this advancement and enjoy and have fun!

3. Despicable Me: Minion Mayhem
With a massive dome screen during this thrilling ride attraction, experience the ultimate excitement with the Minions as they create chaos, and feel the realistic rides of the excitement. The stage is set as Gru's mansion and laboratory. Hop on to the unique invention created by Gru and experience being the Minions by extraordinary training. Alongside the large numbers of Mionions and Gru's three daughters, running among the laboratory with high tension, fly freely through the air and even tumble to the world's edge. Nevertheless, with all the fun you have, you will be touched to have a bond with Minions, Gru, and his three daughters. The Minions are carefree, but their sense of justice is unwavering.

Jump into this chaotic world of adorable Minions and enjoy their mischievous to the fullest!

4. Harry Potter and the Forbidden Journey
The award-winning Harry Potter world has been named the world's No.1 ride attraction for the past five years. This has evolved into an even more overwhelming sensory experience!

With enhanced realism and immersive visuals, no need to wear 3D glasses, thanks to the upgraded magical effects! Enjoy the magic effects of feeling the dragon's heat and Dementor's chill! Enjoy 360 degrees of the magical world realistically, and put yourself into the world of the new dimension of the magic world.

5. The Flying Dinosaur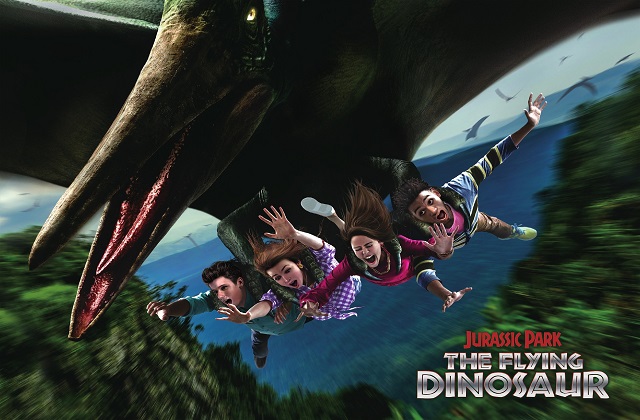 Experience the mind-blowing heights and lengths of cutting-edge flying and gravity-defying roller coasters. Hold tight as your soar throughout the air while a mighty Pteranodon dinosaur carries you on its back, revealing your whole body! Get excited with this unbelievable thrill that will shake you from your everyday routine as you get pulled in every direction through the 360-degree world of Jurassic Park.

Don't forget to check out the themed areas like Hollywood, New York, San Francisco, Universal Wonderland, Amity Village, and Waterworld.

How to Make the Most Out of Your Visit
Learn the tips on how to enjoy your visit to Universal Studios Japan:
1. Get a Universal Express Pass!
Skip the line to 4 or 7 attractions — the best way to maximize your stay in the park!
2. Download the official Universal Studios Japan App in advance.
Get the app in English and other languages!

3. Arrive before 8:00 AM for Early Entry.
4. To be safe, bring a printout of your WAUG voucher and Universal Studios Japan Admission Ticket.

5. Bringing in outside food is prohibited.
Bag inspection will be carried out, so please do not hide or bring your food.
6. Please wear comfortable shoes.
Expect to take at least 10,000 steps as you explore the park, so please wear comfortable shoes.

How to Get to Universal Studios Japan:
Universal Studios Japan is far from central Osaka, so please plan your transportation ahead of time.

The recommended route is at Umeda, get on to Osaka Line and JR Yumesaki Line to JR Universal City Station. Please note that the Osaka Amazing Pass cannot be used on the JR line.


WIZARDING WORLD and all related trademarks, characters, names, and indicia are © & ™ Warner Bros. Entertainment Inc. Publishing Rights © JKR. (s23) Minions and all related elements and indicia TM & © 2023 Universal Studios. All rights reserved. © Nintendo ©2023 Pokémon. ©1995-2023 Nintendo/Creatures Inc. /GAME FREAK inc. TM & © Universal Studios & Amblin Entertainment TM & © Universal Studios. All rights reserved­. CR23-1611